'Beyond the Luau'

Good news: you can have a Hawaiian Party without hosting a typical Luau Event! Whether it's a wedding, birthday party, or corporate event, there are lots of themes that capture the essence of Hawaii without the traditional decorations.
Here you'll find some ideas to help you plan your next gathering with a fun twist:
Surfer Party
Take your event to the beach with a Custom Surfer Party! This theme would be great for a birthday party, child or adult! Dip your toes in the sand and let the beach speak for itself! Live music is a must, let us at Soul Fire Productions set you up with a DJ or a band to really get the party going!! And no party is complete without mermaids! Yes! I said mermaids. At Soul Fire Productions hire one or two of our mermaids to come to entertain your guests and have photo ops that will last a lifetime.
Tiki Party
Take Polynesian culture to the next level by hosting a Tiki Party! Live Fire and Hula dancers will take this event to the next level by WOWing your guests! Use the Polynesian theme to create signature cocktails as well as serving Authentic Hawaiian Cuisine. At Soul Fire Productions all our guests can say that our show is the most cutting edge and progressive shows in all of Hawaii! You will not regret this special touch!
Hawaiian Goddess Pele Party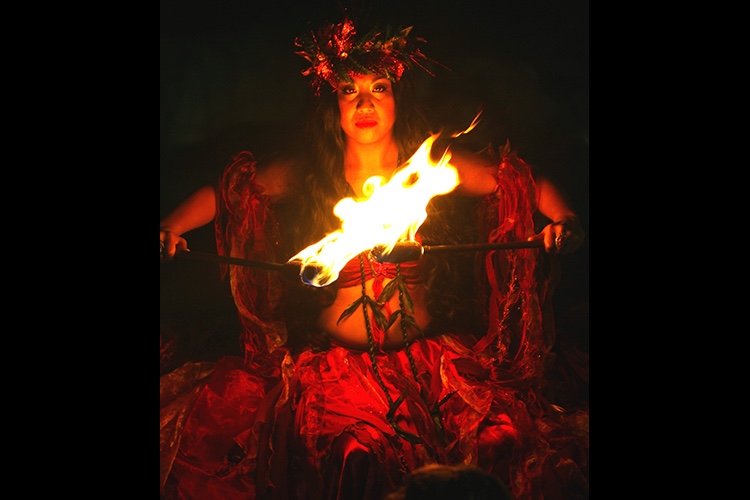 This theme is very special to us at Soul Fire Productions because in it we pay homage to the powerful Goddess Pele who birthed forth Hawaii. This theme adds a touch of Polynesian flair as we do costumes made of red silk and sequin with flame-like flow and adorn ourselves with fresh flowers, ti and shells. Backed by world beat, Tahitian rhythms, and chants, we dance in honor of the great Goddess Pele. If you want to show your guest a good time and let them connect with the history of Hawaii a Hawaiian Goddess Pele party is the right theme for you.
Cirque du Soleil Party
If you want to stand out from the typical party then throw a Cirque du Soleil Party! Cirque du Soleil is one of the most incredible jaw-dropping themes and a theme you won't see at your typical party! At Soul Fire Production our event puts a playful, sassy, upbeat extravaganza puts a fiery new twist on an old style Cirque feel. Pulling from vaudeville and burlesque flavors we bring to life fun and engaging night of entertainment fun for all ages! Live Cirque dancers will fill the stage and WOW the audience on stilts, silks, fire blowing and twirling acrobats! Did we mention the cube contortionist? This party is SURE to blow your socks off!
See what past clients have said-
"Soul Fire is incredible! These ladies are inspiring, beautiful, professional, artistic and an absolute sight to see. The performer's skill level is comparable to what you would see at Cirque du Soleil. The costumes and music, amazing! I highly recommend them to anyone wanting to experience a show of a lifetime."
Black Light Dance Party
Take your adult only party to the next level with our Black Light Shaz-am package! Want to feel like you are in the hottest night club on the island? How about entertaining your guest with LED hula hoopers, aerial dances, poi and staff spinners? And what would a black light dance party be without a Dj with state of the art sound system and lighting package, black lights, lasers, fog machine and an airbrush tattoo artist using UV paints, which will allow your guests to become a part of the interactive experience? If you want to party into the morning try throwing a black light dance party!
All of these ideas from us at Soul Fire Productions are perfect for those wanting a touch of Polynesian tradition along with something fresh and unique!
What are you looking for for your next event? Still feeling lost? Let our creative team design your event and add that touch of magic to make it extraordinary. We would love you help you! Click the link below for more information or to request a quote: